The ripple effect of the sex for grades scandal still seems to be moving; as one Mr Bala Umar, popularly known as A.B. Umar, has been suspended by the Kaduna State University (KASU), on Wednesday for allegedly soliciting sex for grade.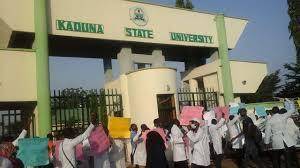 This is after a lone campaign at the school carried out by a female graduate of Ahmadu Bello University (ABU), Zaria; went viral and got the attention of the school management.
The management therefore met on Wednesday and set up a committee to investigate the allegations against Umar.

According to the lady, whose name was not given; Umar was formerly sacked by ABU, and later employed by KASU; and is unfit to be a lecturer in any institution.
Furthermore, Prof. Abdullahi Ashafa, the Deputy Vice Chancellor, who chaired the meeting; said KASU had zero tolerance for such misconduct by its members or staff; and would therefore deal appropriately with anyone found wanting.